Create Your Own Angler for FS2
Creating your own Angler for FS2 using PSP7
By John.B.Wirral Dec 2003
Choosing your photo is very important. Pictures taken in natural light is a must and although you may wear your beefy coat for real fishing, it will not work on Fishsim as in the finished graphic it will make your head look too small. Wear a sweatshirt or fleece as below.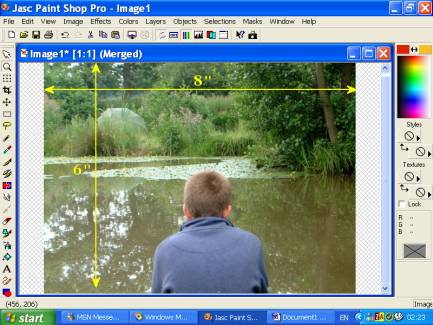 The size of the photo used is not critical, but the bigger the better for cutting out purposes and it is easier to work with as the size of your cut out picture can be changed later on.
Please note: Whenever you use and of the options on the left side of the above example, after you have finished, remember to choose another option or the cursor before you continue.
Sec. 1 CUTTING OUT YOUR ANGLER
Using the settings as below and using the freehand tool, cut out you angler (trying to keep just inside of the picture).