There are various areas in Fishsim 2 that can be customised such as backgrounds and landing nets. One of the most popular though, is to customise the angler.
The guide below was written by John B Wirral in December 2003 and is reproduced with permission.
The guide was written using PSP7 but other editors will have similar features.

Note: Some of these images are not that sharp, each picture can be clicked to view a clearer version in a separate window.
The guide is also available as a download in HTML format from the SD Downer.
Choosing your photo is very important. Pictures taken in natural light is a must and although you may wear your beefy coat for real fishing, it will not work on Fishsim as in the finished graphic it will make your head look too small. Wear a sweatshirt or fleece as below.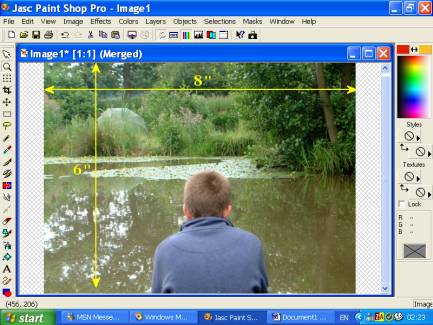 The size of the photo used is not critical, but the bigger the better for cutting out purposes and it is easier to work with as the size of your cut-out picture can be changed later on.
Please note: Whenever you use any of the options on the left side of the above example, after you have finished, remember to choose another option or the cursor before you continue.
Sec. 1 CUTTING OUT YOUR ANGLER
Using the settings as below and using the freehand tool, cut out you angler (trying to keep just inside of the picture).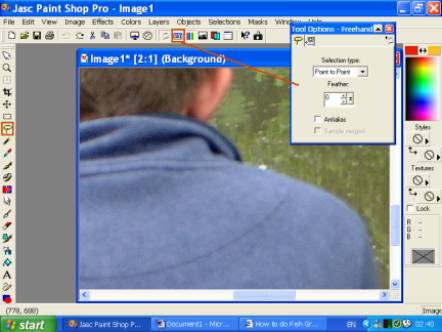 Once you have completed your cutting out (by double clicking when the lines meet), copy and paste. Your original picture can now be removed as we do not need this now.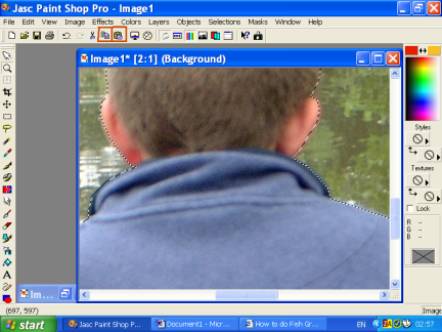 You will be left with the image as below. DO NOT change the size of your angler at this stage. Now save this pic (Somewhere easy to find again) as a name of your choice and leave in PSP format.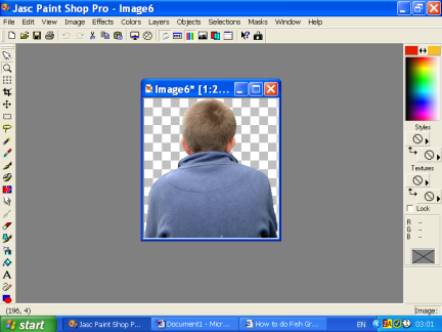 Sec.2 ADDING A NAME, LOGO ETC
2-1 Adding your name:
Choose the 'create or edit text' option A and click on your angler, and you will get a box as below.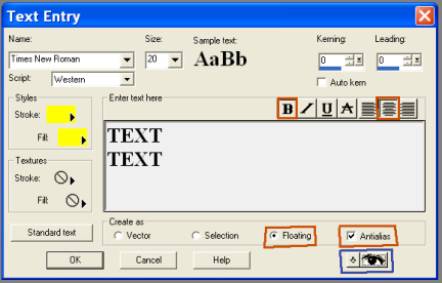 Each option explained:
Before you start to make any alterations to your text ensure the text is highlighted first
Name: This is just your choice of font to be used; I have tried several and found a font called 'Seagull' that looks good and clear (if you don't have this font, I can always Email it to you if required).
Size: Size of font to be used. For this you will just have to alter the size to suit your picture.
Kerning: This can be adjusted for character spacing a positive number (25) will widen the space between the characters and a negative number (-25) will bring them closer together.
Leading: This is used for line spacing, and works the same way as above.
Styles: This is for choosing the colour of your text. You can experiment with these as to having the stroke and fill different colours. I have tried different variations, but be aware that something that my look good on your picture at this stage, may not look so good on the completed graphic (due to reduction of size and colour depth). Therefore I tend to stay with the same colour for both options.
Textures: Have never used this for this application.
Red Boxes: these four options I always use, the floating option allows you to move your text into position, and with the antialias option ticked, allows the text to merge into the picture (the effect we didn't want when originally cutting out our angler).
Blue Box: With the eye and the arrow selected you can see your text on the angler as you do it, so any adjustments needed, can all be done at that time rather Than having to go in & out all the time.
Once you are happy with your text, click ok. Move the text into the position you want on the angler when done right click to finish. If once you do this stage and you are not happy with it, don't worry just click the undo button (as shown below) once to reposition your text or several times (to change it) till the text has gone, then just start it again.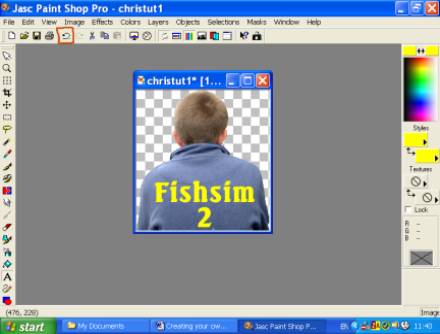 2-2 Adding a logo on the shirt
Cut out your logo as explained in Section 1, except for this application, I tick 'antalias' option, so the logo merges into the angler's coat.
Click the images (1) button and choose the resize option to alter the size of your logo to suit, when done click copy (2), then right click on your angler and choose 'Paste as a new layer'.
To just move your logo, choose the 'mover' (3) or to move and slightly adjust its size choose 'deformation' (4)
2-3 Adding a hat/cap to your angler:
Cutting out your hat/cap is done in exactly the same as in section 1. And applying it is done exactly as 1 to 4 above. When complete, choose the options as below to complete this part.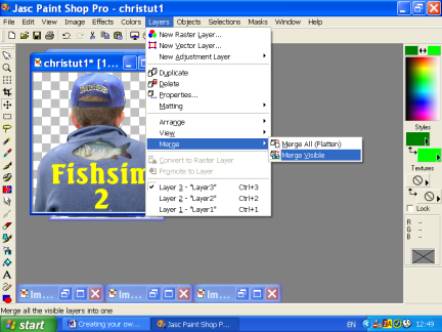 Note; if you use the 'deformation' to slightly alter the size of your cap, there may be a need to do some touching up, as the cap may merge slightly and would show up as a white out line in FS2. I will explain this in the next section.
Sec 3 ADDING THE BACKGROUND
Go into image/ resize and check the size of your picture. Now create a new image (1) as shown below slightly larger.
Right click on your angler and choose 'copy' (click back on the cursor (2)) right click on your background and choose 'paste as new layer' then go 'layers' and choose option as shown below.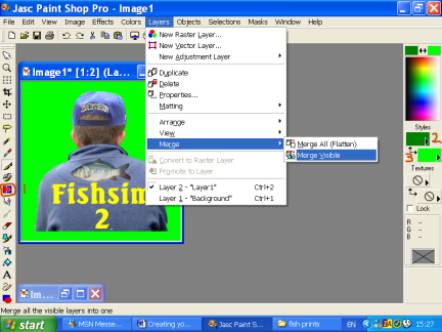 What I do next is to darken the green using the 'colour replacer' (1) and change the 'styles' to 2 & 3 as above (on these colours ensure you don't use any colour that is already on your angler) with the options above chosen left double click on your picture.
On the styles option your left mouse button picks the top colour and your right mouse button the bottom colour. The reason I do this is in case any of your angler has slightly merged with the background, if left it will show as an outline on your angler in Fishsim.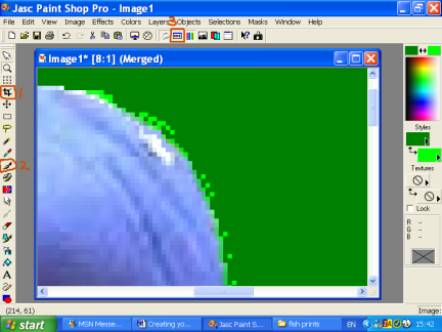 Use the paintbrush (2) to change any light green to dark green, when happy choose the 'crop' (1) tool to cut your angler out checking the 'toggle tool option window' (3) is set to rectangle. Double click inside the box you have created and this will create a new image, which we will be using from now on.
Now choose the 'colour replacer' option as before but this time right double-click to make the dark green back to our light green. This ensures a crisp edge to our angler when seen in Fishsim.
SEC. 4 REDUCING OUR GRAPHIC TO 256 COLOURS
Now we need to reduce our graphic to 256 colours, to do this click on 'colours' at the top and choose options 'decrease colour depth / 256 colours (8 bit).
Click yes on the first box, then choose the options as shown below and click ok.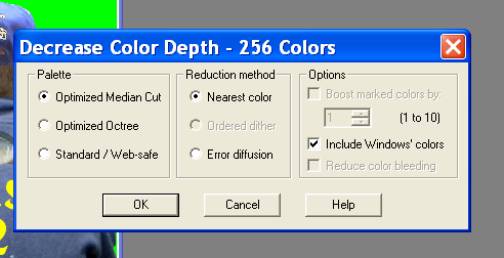 The colour used for a transparent background, is the top left colour shown on the left (windows default is always black). To change this colour to our light green I do it in three stages. Firstly, in our styles box (as used with the greens) change the colours to black (top) and pink -255.0.255 (bottom).

Secondly click on 'colours' at the top and choose option 'edit palette' and you will get a screen that looks similar (as on the left), double click on the top left colour (black) and you will get an option to choose a colour, choose pink and click ok then ok again. With the style colours set at black and pink, double left click.

The reason I do this, as if there is any black on our angler, it will automatically change to the colour we choose in the 'edit palette' option. If we chose green straight away, any black would change also to green, and we would have to it touch up with the paintbrush

Again, click on 'colours' at the top and choose option 'edit palette', double click on the top left colour (now pink) and you will get an option to choose a colour, choose the green and click ok then ok again. That is now this stage finished and your angler and settings on the right should look like the example below with you back ground colour being the same as the top left colour on the grid.

SEC 5 RESIZING AND SAVING YOUR ANGLER

All that is left now is resizing the graphic. Click on the 'images' option and choose resize, now set the details exactly as example below.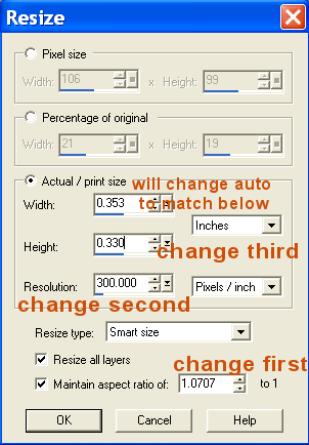 Then click on 'View' and choose normal viewing (1-1). Finally save as man.pcx and put him in your Fishsim2/graphics folder, and when prompted click yes to replace..
Creating your own Angler for FS2, using PSP7 By John.B.Wirral Dec 2003.
Reproduced by Simmers Dad with permission.
Web Pages :
Direct links.